Window Wise Installation Guidelines
SHIMMING AND FASTENING
Position and shim the vinyl window in the opening, plumb, level and square. Shim every 16 inches on the sill and every 24 inches on the jambs. Fasten through jambs at shim locations (see shimming diagrams) with round head rust protected screws. No fasteners should go through a sill because they could compromise drainage. Check unit operation before applying interior trim, exterior brick or siding. Check for consistent clearance between sash and frame.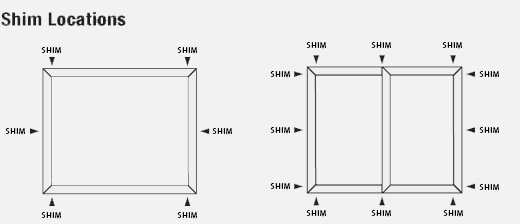 SHEDDING OF RAIN WATER
The space around a vinyl window must be covered on the outside with a Brickmould or with flashing. Caulk where Brickmould meets adjacent siding or masonry finish. Use quality exterior grade caulking and ensuring that all voids are sealed from the weathering elements.
DRIP CAP
The building code requires a drip cap be placed above the head of the vinyl window. This is a very important flashing for effective shedding of rain water. The back leg of a drip cap extends at least 2 inches up behind the building paper / exterior air barrier. If siding j-channel is placed above a drip cap it must have drainage holes.
WINDOW WISE INSTALLATION
Vinyl window renovations and installations are a big industry in Canada. More and more homeowners are taking advantage of energy saving programs and incentives to make their homes more comfortable and energy efficient. Unfortunately, too many contractors are capitalizing on the increased demand and offering replacement window installation services without first receiving proper training. A faulty vinyl window installation can nullify the energy saving benefits and hi-tech features of the vinyl window and create costly problems that may not be evident for months or years.

For more information please visit www.windowwise.com